Fast Food, Teil eins: Burger-Küche! Sollte es in Sydney geben, würde man meinen, und zwar richtig gute. Gibt es auch, und zwar in allen erdenklichen Fleischvariationen, nach vegetarischen oder veganen Burgern sucht man bisweilen auch länger. In Bondi Beach gibt es ein Burger-Restaurant, das sich mit dem Wörtchen "Gourmet" im Namen schmückt – und hier habe ich tatsächlich einen veganen Burger auf der Speisekarte gefunden. Den überaus stolzen Preis habe ich, hungrig, wie ich an dem Tag war, übersehen – zum Glück, denn der Burger war wirklich Eins A! 
Ich habe ihn gründlich inspiziert und versucht, einzelne Bestandteile zu identifizieren, um zu hause selbst vegane Burger Patties zu versuchen. Meine Heim-Variante hat ihr Vorbild geschmacklich nicht eins zu eins wiedergegeben, war aber dennoch sehr, sehr lecker. Die Extrazutat Zimt habe ich ihn Anlehnung an das vegane Kichererbsengemüse mit Zimt bei den Burger-Patties ergänzt. Und das hat funktioniert. Die Patties lassen sich übrigens ohne Geschmacksverlust einfrieren, Hamsterer sind also mit diesem Rezpt für vegane Burger bestens bedient.  
Aileen sammelt auf ihrem fabelhaften Blog Minzgrün derzeit Grillrezepte für den deutschen Sommer – da bin ich gern mit einem Rezept aus BBQ-Country dabei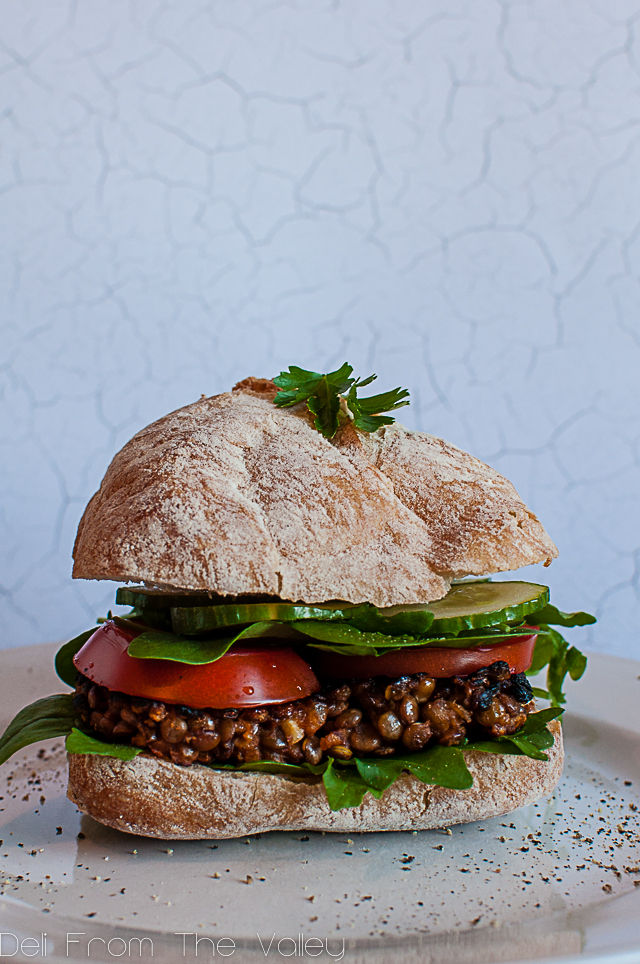 Das braucht Ihr
Für vier bis sechs Linsenfrikadellen (je nach Größe)
175 g rote Linsen

600 ml Wasser

1 Zehe Knoblauch

1 rote Zwiebel 

einige Blättchen Petersilie

0,5 – 1 EL Paprikapulver

0,5 EL Kurkuma (optional)

0,25 TL gemahlenen Zimt

35 g Haferflocken

2 EL Olivenöl

1 Ei-Ersatz (z.B. 1 EL Sojamehl angerührt mit 2 EL Wasser)
Für die Burger
Sweet-Chili-Soße

Ruccola und Baby-Spinat

1/2 Salatgurke

3 Tomaten

1 rote Paprika 

1 reife Avocado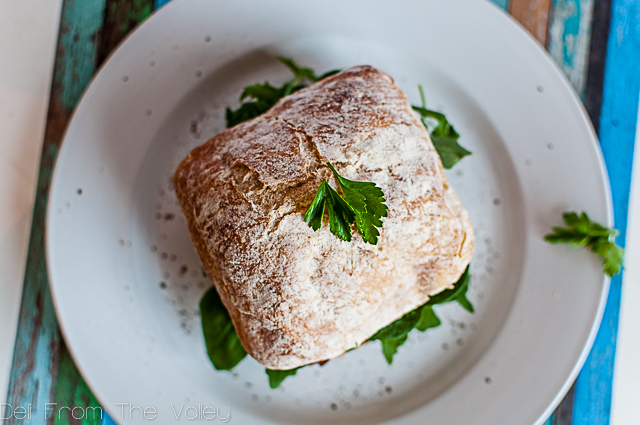 So geht's
Rote Linsen in Wasser zum Kochen bringen, dann 15 Minuten köcheln lassen, bis sie bissfest sind. Wasser abgießen, mit dem Pürierstab zerkleinern. Ei-Ersatzpulver mit Wasser separat anrühren, kurz ziehen lassen. Petersilie waschen, trocken tupfen und hacken. Zerkleinerte Linsen in einer großen Schüssel mit den übrigen Zutaten für die Linsenfrikadellen vermengen, Ei-Ersatz unterheben. Frikadellen aus der Linsen-Masse formen. Öl in einer beschichteten Pfanne oder Grillpfanne erhitzen und die Frikadellen einzeln von beiden Seiten jeweils ein paar Minuten darin braten oder grillen.

Für die Burger Ruccola und Baby-Spinat waschen, trocken schütteln. Gemüse waschen oder schälen und in Scheiben schneiden. Burger-Brötchen aufschneiden, mit Sweet-Chili-Soße bestreichen, Linsenfrikadelle darauf legen, Salat und Gemüse darauf schichten. Brötchen-Deckel drauf, fertig.

Wer mag, grillt das Gemüse ebenfalls – ich persönlich mag lieber die Rohvariante. So oder so – wohl bekomm's!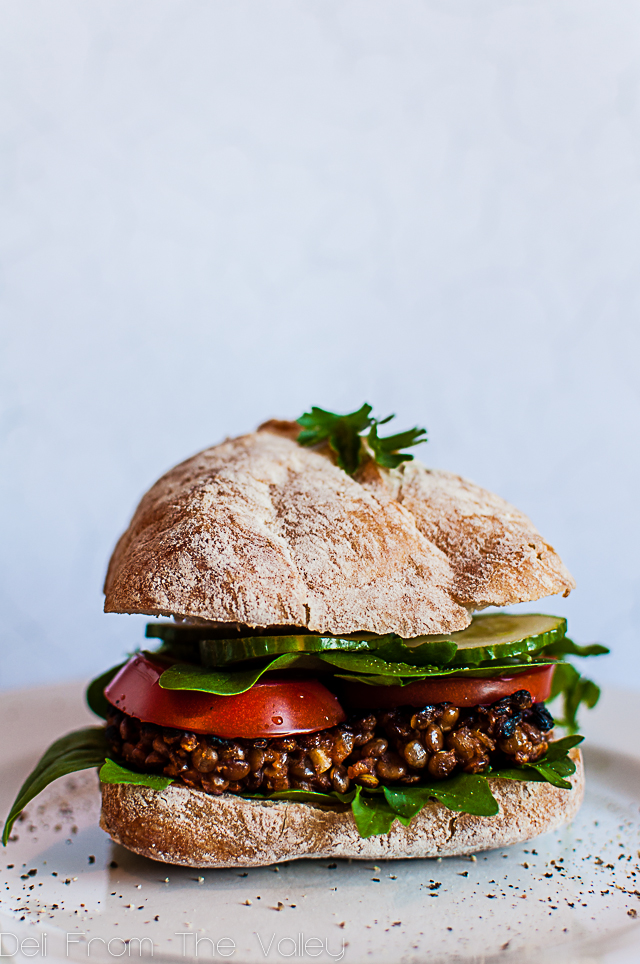 Place lentils with water in a large saucepan. Bring to a boil. Reduce heat and simmer for 15 minutes. Remove from heat. Cool till just warm. Drain water. Process coarsely in a processor/blender.
Place lentil mash in a large bowl. Add all the other ingredients for the patties. Mix well. Refrigerate for 30 minutes (optional if finding hard to roll mixture).
Shape mixture into thick patties. Heat a tablespoon of oil in a large frying pan coating the surface evenly. Place 3 patties in the pan and cook on medium-high heat, turning gently with a butter knife ocassionally till cooked and golden on both sides. Repeat for remaining mixture and cook patties until golden (approximately 5 to 8 minutes for each batch).
Patties can be placed in a pre-heated, switched off oven to keep warm. To reheat, warm in the microwave or lightly on a pan. Patties can be stored in a container in the fridge for 4 to 5 days or frozen with sheets of baking paper between patties for upto a month.
– See more at: http://www.cookrepublic.com/journal/cook-republic-food-blog-wins-best-australian-blog-2013-french-lentil-patties-green-sauce/#sthash.Uv5pQpd8.yYU8AdUC.dpuf
♥♥♥♥
♥♥♥♥
♥♥♥♥
♥♥♥♥
♥♥♥♥ ENGLISH
♥♥♥♥
♥♥♥♥
♥♥♥♥
♥♥♥♥
♥♥♥♥
Vegan lentil burgers with cinnamon and avocado
Fast food, 101: burgers! While it seems to me a very easy job to find a "common" beef burger in any city the same mission can be tough for vegetarians and vegans. Even in Sydney, lots of great diners, bars and restaurants offer a wide range of meat burgers while at the same time sweet potato fries are the only edible dish for vegetarians and vegans. Just recently I found out that a great place that serves vegan burgers is just around the corner of where we live in Bondi Beach. I tried a red lentil burger there and it was really good. In my mind a made a list of the used ingredients and started working on a pattie recipe the next day. It didn't work out exactly like the one from the bar – and yet it tasted exceptionally good. I added ground cinnamon to the patties because it worked out so well in the vegan chickpea dish I made a few weeks ago. Here you go:


You'll need
For 4 to 6 patties:
175 g red lentils

600 ml water

1 clove of garlic

1 Spanish onion

some parsley leaves

0,5 tbsp ground paprika 

0,5 tbsp ground turmeric (optional)

0,25 tsp ground cinnamon

35 g rolled oats
For the burgers:
burger buns

sweet chili sauce

fresh rocket and baby spinach

1/2 cucumber

3 tomatoes

1 red capsicum

1 ripe avocado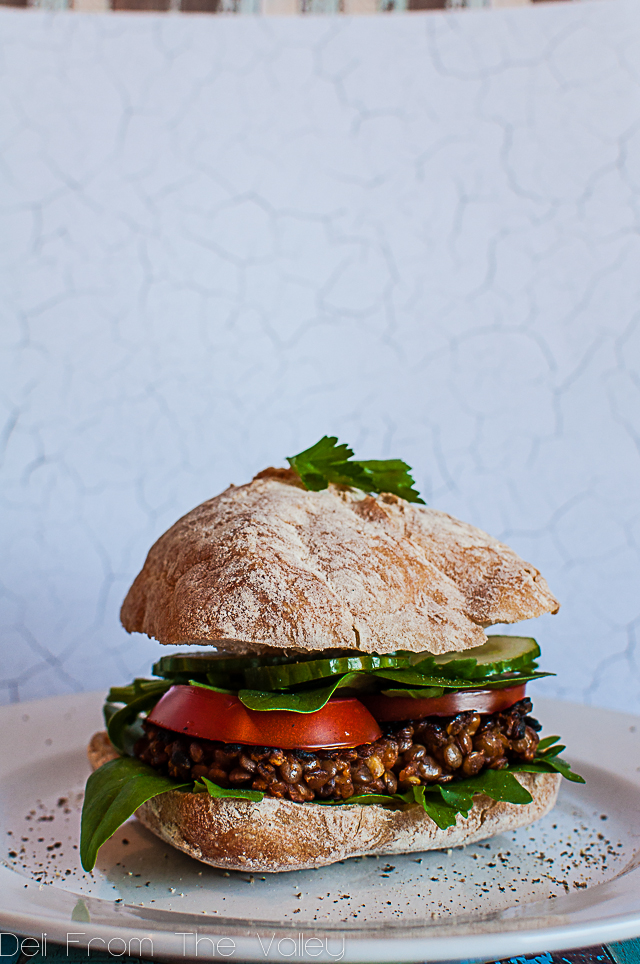 Preparation
Bring lentils in water to boil, then reduce heat and cook for 15 minutes until firm to the bite. Drain water and purée lentils. In a small bowl mix soy flour and water, let sit for a couple of minutes. Wash parsley, blot dry and chop. Mix puréed lentils with the remaining ingredients for the patties in a large bowl, stir soy flour and water mix in. Use hands to form patties from the mixture. Heat oil in a fry or grill pan and fry from each side for a few minutes until done.

Wash rocket and baby spinach, blot dry. Wash or peel vegetables and slice. Cut burger buns open, spread swett chili sauce over cut faces, add lentil patty, salad and vegetables. Top with the other half of the bun and hhere you go! Enjoy your vegan lentil burger!
1 cup French lentils (dry)
2 1/4 cups water
2 tablespoons minced garlic
1 small red onion, chopped
2 tablespoons ground cumin
1 tablespoon smoked paprika
1/4 teaspoon ground cinnamon
1/3 cup rolled oats
2 tablespoons extra virgin olive oil
3 tablespoons tomato paste

salt and freshly ground pepper to taste
oil for pan frying – See more at: http://www.cookrepublic.com/journal/cook-republic-food-blog-wins-best-australian-blog-2013-french-lentil-patties-green-sauce/#sthash.Uv5pQpd8.dpsser
1 cup French lentils (dry)
2 1/4 cups water
2 tablespoons minced garlic
1 small red onion, chopped
2 tablespoons ground cumin
1 tablespoon smoked paprika
1/4 teaspoon ground cinnamon
1/3 cup rolled oats
2 tablespoons extra virgin olive oil
3 tablespoons tomato paste

salt and freshly ground pepper to taste
oil for pan frying – See more at: http://www.cookrepublic.com/journal/cook-republic-food-blog-wins-best-australian-blog-2013-french-lentil-patties-green-sauce/#sthash.Uv5pQpd8.dpuf
1 cup French lentils (dry)
2 1/4 cups water
2 tablespoons minced garlic
1 small red onion, chopped
2 tablespoons ground cumin
1 tablespoon smoked paprika
1/4 teaspoon ground cinnamon
1/3 cup rolled oats
2 tablespoons extra virgin olive oil
3 tablespoons tomato paste

salt and freshly ground pepper to taste
oil for pan frying – See more at: http://www.cookrepublic.com/journal/cook-republic-food-blog-wins-best-australian-blog-2013-french-lentil-patties-green-sauce/#sthash.Uv5pQpd8.dpuf